Dating while being stuck at home self isolating due to the coronavirus can be hard. Trust us we know. Being isolated doesn't mean that you and your loved one should be sacrificing romance in your relationship and trying new things together. Being limited to your four walls does make it challenging to come up with creative date ideas, so, we've come up with a list of what are five date ideas for you to do while self isolating during the corona virus:
Granville Market and fancy dinner at home
Drive in Movie theatre
Panting and wine
Picnic in a park
Vision Boarding
Granville Market and Fancy Dinner at Home
One of our new traditions is to find a cool recipe, shop for good quality ingredients and cook dinner together. We typically use Pinterest for recipe inspiration, but if you're aiming for a true restaurant experience, check out the free online recipes from celebrity chefs:
Chef Nobu – the legendary chef behind the menu at Nobu restaurants
Gordon Ramsay – Internationally renowned, multi-Michelin starred chef
Jamie Oliver – famous British chef and restauranteur

To ensure you have a fun shopping experience and get the best produce, we recommend going to the Granville Market. If you're looking for live seafood and asian fusion ingredients, check out the local TNT supermarket. Like in any restaurant kitchen, prepping is key so you can spend the late afternoon prepping for your dinner with a glass of wine while watching an online stream from your favourite artist. Make it special by setting up the table nicely, light up some candles, add fresh flowers and dress up. And of course remember to have fun, this is not the time you need to compete in th kitchen or impress each other with your cooking skills, its the time to connect, laugh and flirt.
While all the move theatres are closed, there is one that remains open during these times. The Twilight Drive In Theatre is a perfect romantic date spot. Get some pizza, popcorn, and snacks, transform your back seat into a cozy couch and enjoy the show. We went on a cold rainy night in March and it was still fantastic as long as you stay in the car and cuddle 🙂 The movie selection might not be the best, but we promise you'll enjoy it regardless.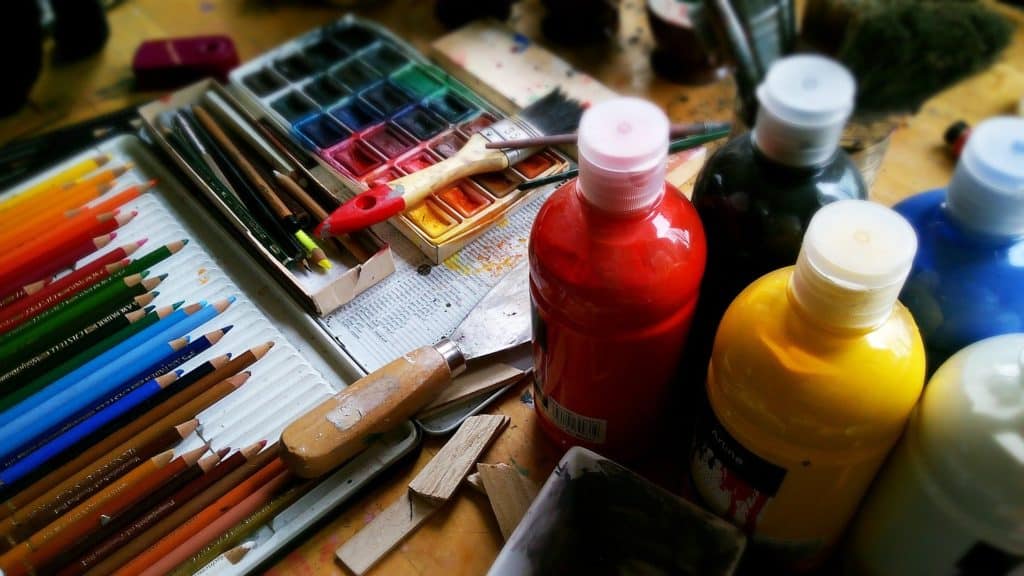 Painting and Wine
Quarantine or not, this is a perfect way to spend an afternoon together engaging in something more meaningful than binge watching Netflix, through we do it too sometimes 🙂.
We have some good news for you! You can still get painting supplies at your local Walmart or Staples. Make sure to get acrylic paint so it easily washed off and some protective cover for the table or floor. If you're not good at drawing, that's okay, YouTube has a bunch of cool videos explaining different abstract painting techniques that will help you create a master piece with zero skills.
Picnic in a Park
Now, that the weather is getting better, it is a perfect time to pick up some snacks and head to your local park. While many public parks in Vancouver are closed during quarantine, there are still plenty of grass along the seawall and Stanley Park.
You can keep it simple with a pizza or put more effort and create a charcuterie board for the occasion. Piece of advice from personal experience, do not bring alcohol in its original packaging. If you'd like to enjoy a drink during the picnic, pour it into a non-transparent water bottle or a flask.
BONUS TIP – we picked up some "to-go" flasks and wine bottles before the lockdown started and they have been our best friend for travelling drinks!
Vision Boarding
Vision Boarding is a great idea to inspire both of you (especially now given inspiration is hard to find!) as a couple but will require more preparation than some of the above. To prepare you need to get some magazines and print out some pictures for your vision board. Create a shared album where you can save pictures you like or dedicate an evening to searching for some inspiration together.
To start you'll need a large piece of cardboard and glue or your can get a cork board from Staples or Walmart and use pins to organize your pictures. A cork board might be more expensive, but in the long run you'll be able to update your vision board with new pictures and ideas at any time.
The Most Important Thing To Remember For Dating During Coronavirus Quarantine
The above are just a few ideas that you can do as a couple during these challenging times during coronavirus quarantine. The most important things that you should remember though is that romance isn't dead just because you can't go out to a restaurant, of course being creative and doing these things together will help to build your relationship!
BONUS – 6. Movie Night In
Admittedly we've had a few of these since we started quarantine. Being able to enjoy movie night together is a staple of any good relationship. That being said movie night doesn't always have to be the same and can still be romantic. We've wrote about our 20 movies for him and her on date night that you can check out here if you need a hand out in picking your next adventure!